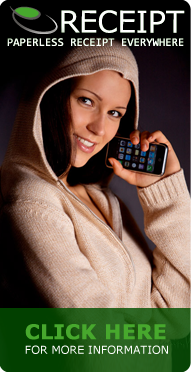 Our Mission
To become the primary vehicle for electronic data storage in all aspects of the financial district amid supporting global, retail, resource, and environmental preservation.
Business Concept
In essence, our concepts within retailGreen come from a personal and business need to become more organized and efficient when dealing with retail affairs. Our flagship E-Receipt product combines hardware based and software based devices to allow electronic receipt capture through mobile devices and portable storage devices. Once the retailer's operating system recognizes the E-Receipt software installed on a mobile device or portable storage device, it will be instantly be ready to accept the device presented. Consumers can have their receipts uploads electronically, hence the name, E-Receipt!

* Unified digital receipt storage
* Revolutionary Software
* Economically beneficial
* Less clutter around work and personal space
* Build customer loyalty
* Easy learning curve.
Business Competitiveness
Upon being the only company with a full service approach to the electronic receipt industry; E-Receipt has many competitive edges that will further serve to differentiate this company from the rest:

* Opening a new niche market
* Open Platform Technology
* Highly Efficient
* Top Level Security
* Cutting-Edge Technology
* Zero Integration